We are very excited to announce, that we are now offering our patented, award-winning LASORB component, in an SMT form. LASORB is a hybrid electronic device, which consists of passive electrical and active silicon components, that come together to help protect laser diodes from electrostatic discharge (ESD) and power surges. Currently LASORB is the only proven device that can guarantee the protection of laser diodes from ESD and power surges.
LASORB has been on the market since 2008, and is currently utilized by hundreds of well-known companies, to protect the laser diodes inside of their various product designs. LASORB has historically been sold in an encapsulated "through-hole" component form. However, in working with many clients across such a broad spectrum of laser applications, it became clear to us, that by offering the product in an SMT form, it would help accommodate clients who need a smaller overall package, or who need to employ entirely SMT-based assembly techniques. The LASORB SMT KIT consists of two resistors, a capacitor, and Pangolin's TSOP6/4G-20V LASORB semiconductor.
In addition to providing clients with a smaller package size, the LASORB SMT KIT also offers substantial cost advantages, as it is at least twenty percent less expensive to produce when compared to the traditional through-hole component form.
To help clients understand how the individual components within the kit should be connected together, and connected to a laser diode, we have published the circuit layout of the LASORB through-hole part. The circuit layout clearly identifies all components in the LASORB SMT KIT including all resistors (R1, R2), capacitors (C1) and the TSOP6/4G-20V semiconductor.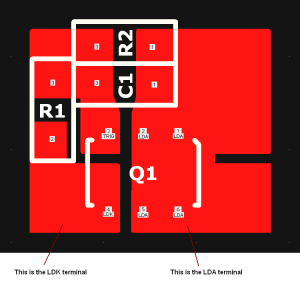 Additional information about the various LASORB purchasing options, can be found online at the following link: https://www.lasorb.com/pdf/LASORB_purchasing_options.pdf
We have already begun selling the LASORB SMT KIT to clients, and stock is available on all LASORB components in our USA, EU, and Asia offices. We are also offering a program, whereby you can obtain samples of LASORB, by sending in a request via our website and discussing your product application with us. More information about this is available at http://www.LASORB.com.